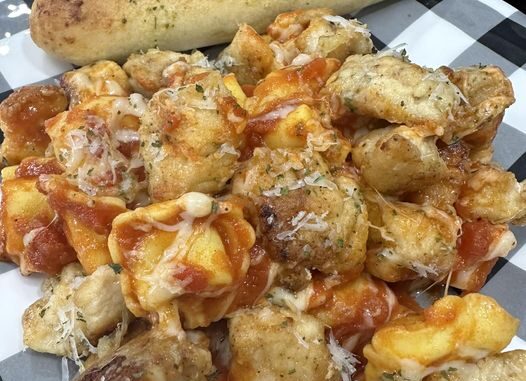 This Cheesy Chicken Parmesan Tortellini is an easy and delicious one pan meal that my family loves. This one doesn't require a whole lot of special ingredients and only takes about 30 minutes to make. It's perfect for a busy weeknight dinner when things can get rushed and time is short, but you still need to get dinner on the table.
Ingredients
2 large chicken breasts cut into cubes
Salt, pepper, garlic powder (for chicken)
1/2 cup of flour
1/2 tsp each of salt, pepper, paprika, garlic powder
1 tsp Italian seasoning
2 TBSP olive oil
2 TBSP butter
19 oz bag of frozen tortellini
24 oz jar of pasta sauce (I used Rao's)
1/4 cup of water
3/4 cup shredded mozzarella cheese
1 cup shredded Parmesan cheese plus more for topping
Dried parsley

Prepping the Chicken

To start things off, cube up a pound of chicken breast into bite sized pieces trimming off any fat or gristle. Season the chicken with some salt, pepper, and garlic powder. I don't use exact measurements for this step.

Next, you're going to grab a bowl and add in 1/2 cup of flour. Season the flour with 1/2 a teaspoon each of salt, pepper, garlic powder, and paprika along with a teaspoon of Italian seasoning.