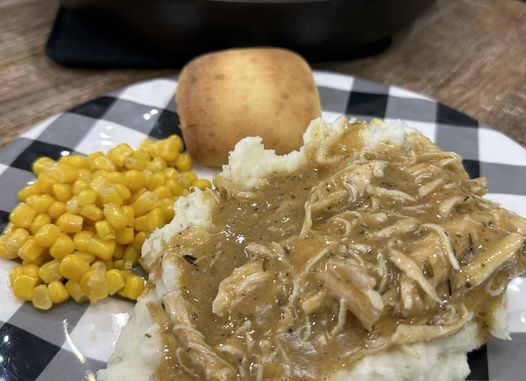 One Pan Chicken and Gravy is an easy dinner recipe the whole family really likes! This is delicious served over mashed potatoes with corn and rolls. This recipe doesn't use cream of chicken soup or any seasoning packets like most recipes call for. You probably already have most of the ingredients needed to make this recipe!
Ingredients
1 lb chicken breasts
Salt, pepper, garlic powder
3 tbsp butter
3 tbsp flour
2 cups chicken broth
1/2 tsp each of salt, pepper, oregano, and thyme
1 tsp each of paprika, onion powder, garlic powder

Prep Chicken and Gravy

Prep making the chicken and gravy by gathering all ingredients needed to make the dish. I like to measure out all of the seasonings and start by cutting the chicken breasts in half to make them thinner.

Cutting the chicken will help the chicken cook quickly! Once the chicken has been cut, go ahead and season the chicken on both sides with a little bit of salt, pepper, and garlic powder. I don't use exact measurements for this part!

Make Chicken and Gravy

To start making the gravy, heat a large skillet over medium high heat. Melt 3 tbsp of butter in the skillet.

Once the butter has melted add 3 tbsp of flour and stir continuously until the flour and butter is combined and starts to thicken. Let this cook for a few minutes while stirring.

Next, add 2 cups of chicken broth and stir well.

Season the chicken broth with salt, pepper, oregano, thyme, paprika, onion powder, and garlic powder. Stir well and once it starts to bubble add the chicken to the skillet.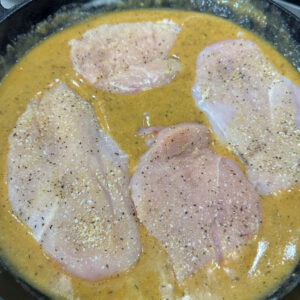 After adding the chicken to the skillet I like to use a spoon to push the chicken down into the skillet and cover the chicken with the gravy.
Cover the skillet with a lid and turn the heat down to medium low. Let this cook for about 12-15 minutes or until the chicken reaches an internal temperature of 165 degrees.
My chicken was cooked in 12 minutes, but cooking times will depend on how thick the chicken is.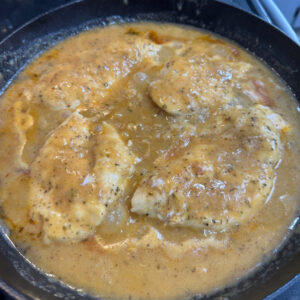 Once your chicken is fully cooked use two forks to shred the chicken.
Serve Chicken and Gravy
Now that the chicken is shredded and simmering in the gravy it's time to eat! I served the chicken and gravy over some homemade mashed potatoes with corn and rolls. This is the ultimate comfort food for fall.