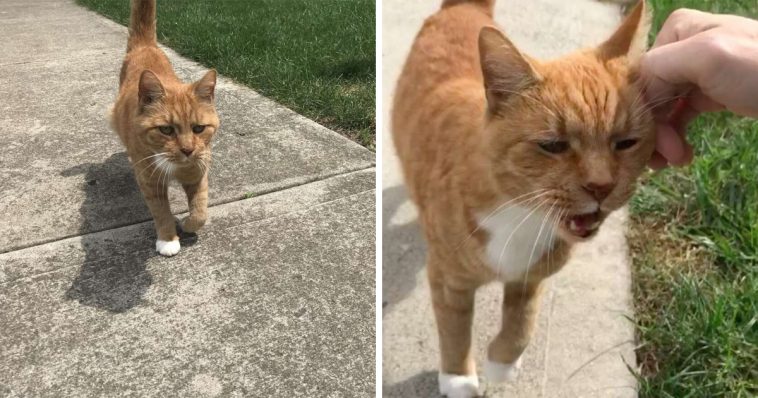 One afternoon, a guy called Dan and his wife were out strolling around the area they had recently moved into when an orange cat appeared out of nowhere. He was really nice, and he approached the pair without hesitation or fear. They had no clue who he was or where he came from at the time, and they had no way of knowing how often they would see him in the years to come.
"He wanted our attention and wouldn't let us go until he was done cheek-marking and receiving well-deserved pets," Dan told, declining to give his last name. "He was clearly well-loved and the nicest, kindest cat you'd ever meet."
"I see him every morning on days when the weather is beautiful," Dan added. "On my lunch break, I also stroll home and usually see him sitting on his neighbor's front porch." When I call his name, he quickly wakes up and comes to meet me. Then he's out in the flower garden waiting for me on my way home."
Every time Dan walks past Bosco's house, Bosco rushes over to greet him…
…and expects all of Dan's love and devotion before he has to rush off to work.
Dan now looks forward to seeing Bosco every day, and he misses their time together when it's too cold or rainy for him to go outdoors. Dan likеs being Bosco's favorite neighbor — at least until Bosco finds new neighbors to meet and hang out with — and the two have formed a strong friendship since Dan moved down the street from Bosco's family.
"He likеs everyone," Dan explained, "so I'm sure I'm not the only one that stops to pet him." "I believe he understands when to come out in order to get the most petting!"