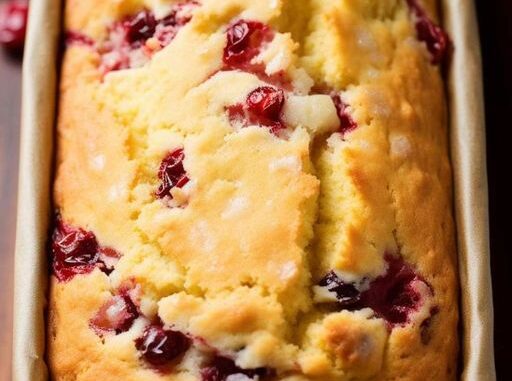 Cream Cheese Cranberry Bread is a delightful and versatile recipe that combines the rich creaminess of cream cheese with the tartness of cranberries. This bread is perfect for breakfast, brunch, or even as a delicious snack. It is a popular dish during the holiday season, with its festive flavors and vibrant colors. The origins of this dish can be traced back to the United States, where cranberries are often enjoyed during Thanksgiving and Christmas. This recipe is a wonderful way to incorporate cranberries into a sweet treat that can be enjoyed year-round.
Serve this Cream Cheese Cranberry Bread for a delightful breakfast or brunch. It pairs perfectly with a hot cup of coffee or tea. For a complete breakfast spread, you can serve it with a side of scrambled eggs or bacon. The creaminess and sweetness of the bread complement the savory flavors of these sides, creating a well-balanced meal. Additionally, you can serve it as a dessert or snack, either on its own or with a dollop of whipped cream or a dusting of powdered sugar. The versatility of this bread allows it to be enjoyed in various ways throughout the day.
Cream Cheese Cranberry Bread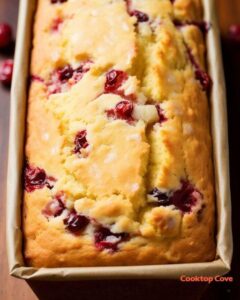 Ingredients:
2 cups of all-purpose flour
2 cups of fresh or frozen cranberries
1 cup of softened butter
8 ounces softened cream cheese
1.5 cups of granulated sugar
1 teaspoon of vanilla extract
4 eggs
1.5 teaspoons of baking powder
1/2 teaspoon of salt
1/2 cup of optionally chopped pecans
Instructions:
1. Preheat oven to 350°F (175°C) and grease two 9×5-inch loaf pans.
2. Cream together butter, cream cheese, and sugar until fluffy.
3. Mix in vanilla extract.
4. Add eggs one at a time, blending well after each. In a separate bowl, whisk flour, baking powder, and salt.
5. Gradually add dry mixture to wet mixture and mix until just combined.
6. Gently fold in cranberries and pecans (if using).
7. Divide batter between the greased pans.
8. Bake for 45-65 minutes until a toothpick inserted comes out clean.
Cool in pans for 10-15 minutes, then transfer to a wire rack to cool completely.
Slice and enjoy! Perfect for breakfast or as a snack.
Enjoy the Cream Cheese Cranberry Bread on its own, or serve it with your favorite sides and accompaniments. This versatile bread is sure to be a hit with family and friends, especially during the holiday season.