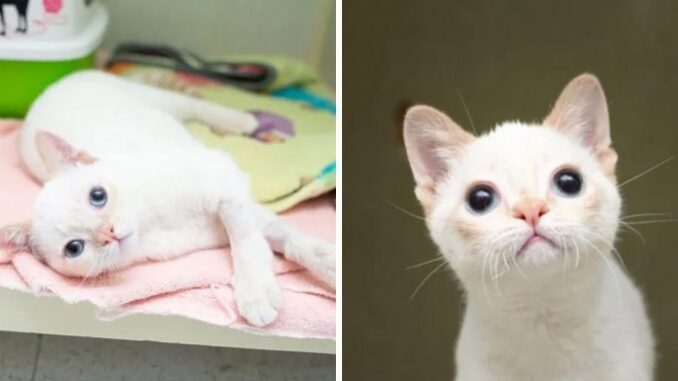 A stray kitten that was four weeks old was found on the street and sent to a Los Angeles animal shelter. The child was visibly stumbling, but he was also intent, which did not fool the workers at the shelter. They started taking care of him.
A few weeks later, the kitten was greeted by volunteers from the nearby Lange Foundation. They were intrigued and offered to remove him from the orphanage so they might later try to place him in caring custody.
The cat, Eddie, has such a strong love for life that nothing can derail him off his course. The Lange Foundation states, "As it turned out at the shelter, he can perform all the regular things, but simply doesn't stand particularly firmly on his feet."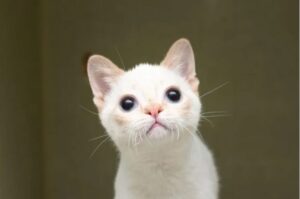 Eddie likes to run around the room and pounce on everything that moves – he does not consider himself somehow "not like that". "He has cerebellar hypoplasia, so he falls. And he probably has hydrocephalus, which is why his head is larger than average."
Despite his diagnoses, he is always in a good mood and is not going to lag behind other kittens.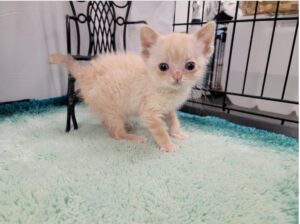 "We showed him to a neurologist, and he also underwent surgery due to a prolapse of the rectum," rescuers say. – Hypoplasia of the cerebellum does not shorten life. She just makes him unsteady on his feet and wobble."
After the operation, Eddie, as if nothing had happened, returned to the games. Not even the Cone of Shame could stop him.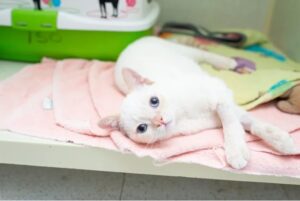 Animal rights groups agree that Eddie is a happy, lively, and charming boy who doesn't give a damn about his health issues.
"He enjoys engaging in competitive cat and dog wrestling. A tray with high edges will help address the issue because it's not always easy to use the restroom expertly.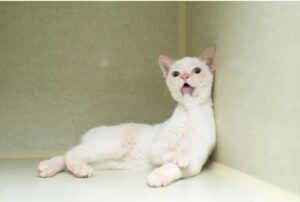 The kitten becomes electrified with excitement when a stick toy enters its field of vision.
"He falls a little, but it doesn't bother him at all. He is confident, content, very friendly and cheerful."