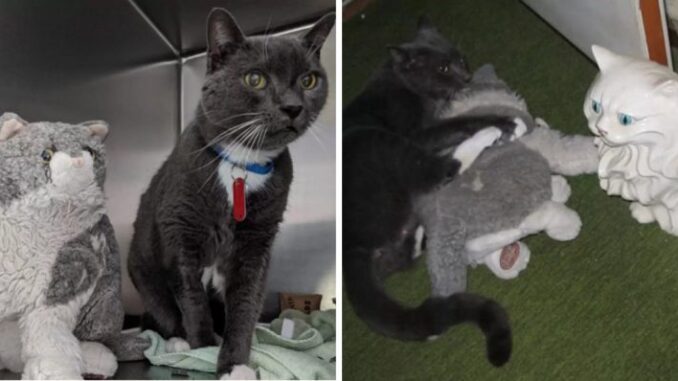 Hoonie, a 16-year-old cat, has experienced many changes recently, but one thing hasn't changed: Hoonie's favorite stuffed cat, a gray and white cat, is still at his side.
Sadly, Hoonie's owner suddenly passed away, thus he is now homeless. Hoonie was first taken in by the owner's daughter, but sadly, she and her own son are allergic to cats, so they were unable to keep him. As a result, Hoonie and his toy cat traveled to a Maryland shelter managed by Alley Cat Rescue.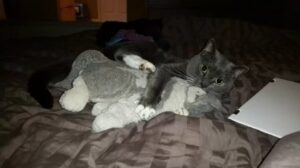 Hoonie's doing "really well," but he's still adjusting to the new sights and sounds at the shelter, Brianna Grant, communications associate at Alley Cat Rescue, told The Dodo. His stuffed cat, which probably still smells like home, is his greatest comfort.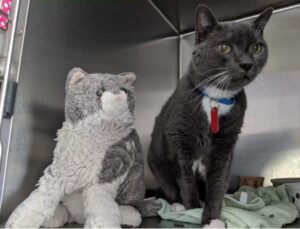 Grant said, "We've never seen a cat so loyal to a plush animal. It appears to be his support network, in fact.
Hoonie spends all of his time with his plush cat; he snuggles, plays, and sleeps with it.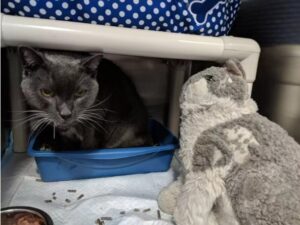 Grant said, "It's been a long-time buddy." I believe Hoonie enjoys playing rough with the stuffed animal and is really connected to it because the owner's daughter showed us pictures of Hoonie doing so. He has been lying close to the cage, and it appears to be really helping him.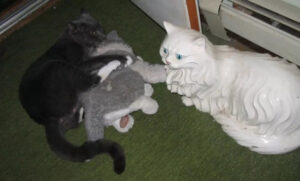 While the staff will do everything they can to help Hoonie get used to shelter life, they ultimately want him to find a new home, especially since he craves attention from people.